"If you love wildlife, you will LOVE this book." -- Nancy Patch, Vice Chair and Co-Founder, Cold Hollow to Canada conservation partnership

Naturalist and Keeping Track founder Susan C. Morse has just updated and expanded her classic Wildlife and Habitats anthology with a wealth of fascinating new insights into animal behavior, plus even more of her award-winning photography.
Based on years of Sue's writings for Northern Woodlands magazine, this new, 2021 edition describes in more detail than ever the habits and habitats of more than 25 species. in more than 300 pages, its 96 articles delve deep into wildlife behavior and communications, and include techniques anyone can use to identify wildlife sign not just by tracks but also by the subtlest clues.
Sue's focus frequently expands to the habitat needs of the wildlife she covers, explaining in clear and compelling terms the kinds of landscapes people need to conserve to sustain healthy wildlife populations and ecosystems. Her writing combines scientific fact with enlightening and entertaining stories from her vast experience in the North American wild, from Arctic tundra to the Everglades' "river of grass" to the southwestern deserts.
All told, this edition is almost 50% longer than the last one. And it belongs on your bookshelf. Even better: All proceeds go to Keeping Track and our work to inspire and educate people across North America to conserve key local habitats.
Click here to order your copy now!
308 pages
8-1/2 " x 11"
3 lbs. 1-7/8 oz.
$45, U.S.-only shipping included
Sample pages:

Table of Contents
"Making Sense of Scent Marking"
"Bobcat Betrothals"
"Black Bear Babysitter Trees"
"When the Wolf Returns"
"Pronghorn Antelope -- An American Original"
More Praise for the New Wildlife and Habitats

"Wildlife biologist, habitat specialist and expert tracker Susan Morse distills over 45 years of observation and research into a useful, well-organized and stunningly beautiful collection of essays and photography, called Wildlife and Habitats. With clear, precise writing and her signature wit, Sue teaches us how to recognize and interpret wildlife signs, paying particular attention to the relationships between animal behavior and habitat. Wildlife and Habitats encourages and empowers us to find our own evidence and to make sense of a wide range of animal communication. An invaluable resource for educators, landowners and wildlife management consultants." ---Brick Moltz, former Education Director at The John Hay Estate at The Fells
"Wildlife and Habitats has a permanent place of honor on my bookshelf. Susan Morse's profound knowledge of the wildlife of the Northeast and personable writing style have won her fans among generations of Northern Woodlands magazine readers." -- Elise Tillinghast, Executive Director/Publisher, Center for Northern Woodlands Education
Click to order your copy online today!
Mail orders also accepted (but no email orders, please). Send your check for $45 per copy  (includes shipping and handling for U.S. addresses only) to:
Wildlife and Habitats Book
Keeping Track
P.O. Box 1115
Richmond, VT 05477
Canadian orders: We regret that due to astronomical international mailing costs for this 3-lb. book, as well as current exchange rates, we must charge our Canadian friends using a Canadian check a total of CA$104.55 for the book, shipping and handling included. For orders shipped to Canada but paid for with checks drawn on a U.S. bank the price is US$85. Please mail your check for the appropriate currency amount to the address above. Credit card and online orders can not be accepted.
Other international orders: Please email info@keepingtrack.org for pricing.
Perennially popular items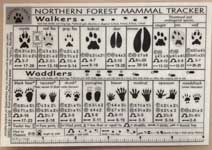 Northern Forest Mammal Tracking 2-Sided Card - $7
This 4.5"x7.5" waterproof card is full of information including accurate renderings of 31 mammal species tracks. For fast identification, tracks are divided into 4 movement categories: Walkers and Waddlers on one side; Hoppers and Bounders on the other. All include front and hind prints plus stride and straddle measurements. Attaches to backpack or keychain with sturdy ring.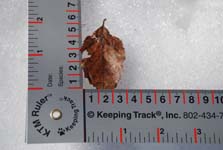 Tracking Ruler - $10
This folding, multi-function ruler is designed to measure length and width of tracks & scat. Back side shows tracks of 19 species. English and metric scales. These can quickly go out of stock, so order yours today.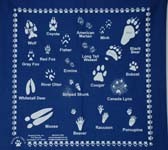 Mammal Track Bandana - 21" square - $7
Our Mammal Track Bandana depicts accurate renderings of the tracks of 20 native northeastern species. Wear it around your neck, or tie it to your backpack. Makes a great gift!  We currently have only navy blue bandanas.
Email your order to bobbie*keepingtrack.org, replacing the "*" with the normal "@". (This to foil the spam bots prowling the web.) Or call 802-434-7000. Include:
Name of item(s)
Quantities
Shipping address
We will then email you your invoice, including shipping and handling charges.  We do not use PayPal but prefer payment by check.  Please contact us if you have any questions about making a payment.  Snail mail order requests for track cards, tracking rulers and bandanas can be sent to:
Keeping Track, Inc.
P. O. Box 1115
Richmond, VT 05477
Thank you!