$45 per copy, postage and handling included

Be among the first to receive this newly expanded collection of Sue's natural history writings. Publication was delayed for a bit so Sue could expand even more on the articles and add new photography. We now expect to ship copies by the end of March. . Place your secure advance order online here. 
Mail orders also accepted (no email orders, please). Send your check for $45 per copy  (includes shipping and handling) to:
Wildlife and Habitats Book
Keeping Track
P.O. Box 1115
Richmond, VT 05477
We'll rush your copy to you as soon as it comes off the press! 
Previews:
International orders: Please email info@keepingtrack.org for pricing.
Perennially popular items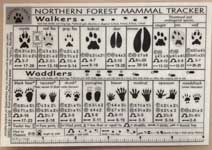 Northern Forest Mammal Tracking 2-Sided Card - $7
This 4.5"x7.5" waterproof card is full of information including accurate renderings of 31 mammal species tracks. For fast identification, tracks are divided into 4 movement categories: Walkers and Waddlers on one side; Hoppers and Bounders on the other. All include front and hind prints plus stride and straddle measurements. Attaches to backpack or keychain with sturdy ring.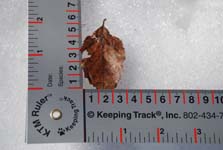 Tracking Ruler - $10
This folding, multi-function ruler is designed to measure length and width of tracks & scat. Back side shows tracks of 19 species. English and metric scales.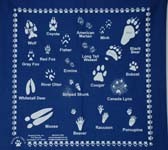 Mammal Track Bandana - 21" square - $7
Our Mammal Track Bandana depicts accurate renderings of the tracks of 20 native northeastern species. Wear it around your neck, or tie it to your backpack. Makes a great gift!  We currently have only navy blue bandanas.
Email your order to bobbie*keepingtrack.org, replacing the "*" with the normal "@". (This to foil the spam bots prowling the web.) Or call 802-434-7000. Include:
Name of item(s)
Quantities
Shipping address
We will then email you your invoice, including shipping and handling charges.  We do not use PayPal but prefer payment by check.  Please contact us if you have any questions about making a payment.  Snail mail order requests for track cards, tracking rulers and bandanas can be sent to:
Keeping Track, Inc.
P. O. Box 1115
Richmond, VT 05477
Thank you!